In a previous post, we explored the basics of podcasting, a relatively new form of media. Introduced in 2004, podcasting (from creators and listeners) has gained popularity around the globe. Today, podcasts are listened to by millions of people every day.
The industry grew alongside the advent of smartphones, smart speakers (Amazon Alexa, Google Home, etc.) and in-dash entertainment systems.
So how have podcasts grown throughout Asia and worldwide?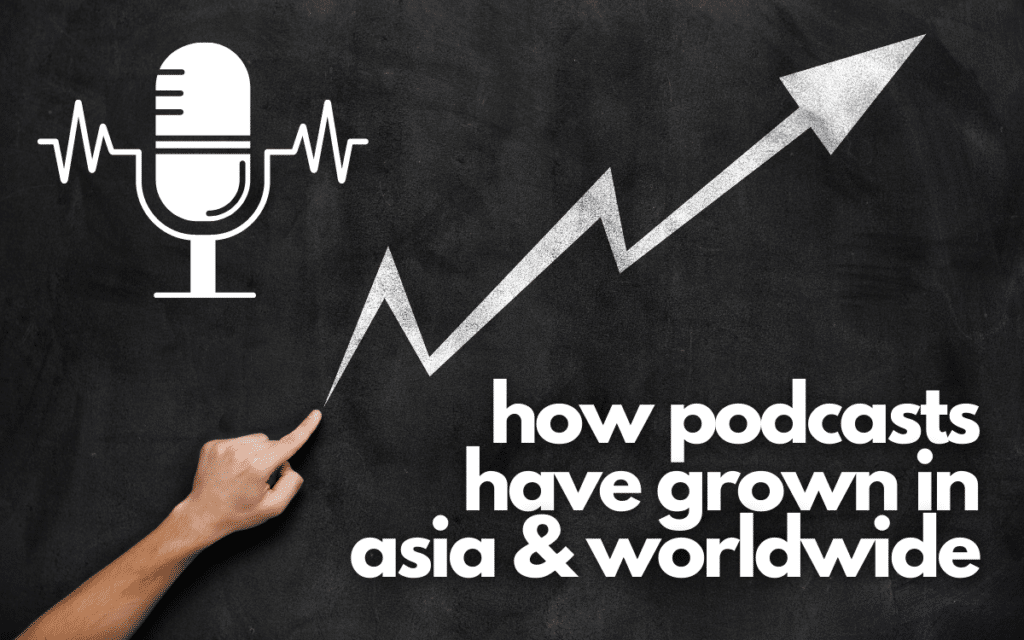 Podcast Statistics Worldwide
By 2028, the global podcasting market will reach USD 94.88 billion. Also, from 2021 to 2028, the podcasting industry will be increasing, with an expected compound annual growth rate or CAGR of 31.1%. This shows that there is massive potential for this market.
As more and more people prefer playing audio-on-demand, they turn to podcasts. They can listen to them while commuting, working out, doing chores, or even at home.
In addition, the number of podcasts being downloaded is also increasing. This means that more people are listening to podcasts than ever before.
This is also evident by the decreasing barrier of entry to creating a podcast from scratch. You no longer need any special equipment to record your voice. Instead, all you need is an Internet connection, a microphone, and a proper podcast host.
Furthermore, there are many platforms and hosts where podcasters can upload their podcasts. Many of the podcast hosting platforms offer free accounts. So, anyone who wants to start podcasting can do so without spending much money.
According to Insider Intelligence, in 2022, there will be 424.2 million podcast listeners, which account for 20.3% of Internet users.
Global issues, ranging from climate change to racism, are discussed by podcasters. These topics are usually covered by famous personalities such as comedians, journalists, politicians and actors. Such issues often provoke discussions, which help educate people about these issues. As a result, more people have become aware of the problems faced by society today.
The topic of podcasting is also actively discussed on Reddit. The majority of Reddit users that discuss podcasts have a business and entrepreneurial background.
How Podcasting Has Grown in Asia?
According to recent research published by the News & Media Research Centre, Canberra, Australia, podcast listenership has grown significantly in Asian countries, including the Philippines, Hong Kong, South Korea, Malaysia, Taiwan, Singapore, and Japan.
GWI, a consumer insight company, noted that 66% of people in the Asia Pacific region (APAC) listen to podcasts. In Southeast Asia, the majority of podcast listeners are in Indonesia.
Among all genres, news podcasts are more popular among podcast listeners in the Philippines (26%), Hong Kong (32%), South Korea (27%), and Japan (11%). Meanwhile, lifestyle podcasts are more frequently listened to in Malaysia (23%), Hong Kong (32%), Taiwan (26%) and Singapore (12%).
This growth is attributed to the rise of smartphones, which have made listening to podcasts more accessible than ever before. As a result, as more people listen to podcasts, they consume them at higher rates.
Why Is Podcasting Increasingly Popular In Asia?
One of the reasons podcasts are becoming popular is their ability to connect with audiences. People love listening to podcasts because they allow them to learn about different topics.
Several reasons explain why podcasts are becoming increasingly popular in Asian markets.
Firstly, podcasts offer an easy way to learn about new topics or stay up-to-date on current events. They can be used to educate on various subjects without having to spend hours reading books or watching videos.
Secondly, podcasts can be downloaded easily from any device, including mobile phones, tablets, laptops and desktop computers. This makes it convenient for users to access podcasts wherever they may be.
Thirdly, podcasts can be accessed through apps such as Apple's Podcasts, Google Podcasts, Spotify, iHeartRadio, Tunein, SoundCloud, etc. These apps make it easy for you to find and download podcasts.
Finally, podcasts are highly engaging because they allow you to hear stories directly from the source. Therefore, you will not miss out on anything if you decide to subscribe to a podcast.
However, one thing that is holding back its growth is the lack of awareness about what podcasting is. Most people do not know what a podcast is, and even if people do hear of it before, they still are not sure how to listen to one.
They think it is just another type of radio show. But this could not be further from the truth.
Still, podcasting is becoming increasingly mainstream in the Asia Pacific region or APAC. It is now possible to find podcasts everywhere. As more and more people have easier accessibility to the Internet connection, they can listen to them anytime, anywhere, and on any device.
Podcasting As A Newcomer for Content Marketing Strategy in Asia
While podcasting is still relatively new in many parts of the world, it has become one of the fastest-growing categories of audio content in Asia.
Podcasting has become one of the most popular ways to share information online. It is also becoming more mainstream with the rise of social media platforms. With so many people listening to podcasts, there are many opportunities to get involved in this growing industry.
For instance, in South Korea, the introduction of Podbbang in 2012 was a turning point for the country's podcast market. It offers a dedicated podcast platform for South Koreans to create their own podcasts. The success of Podbbang led to other similar platforms being launched by local companies.
Similarly, in Hong Kong, the current political situation has led to a surge in podcast consumption. Political podcasts, in particular, have skyrocketed in listenership.
In China, the podcast industry has its own uniqueness. Their constant platformisation of hosting the podcast industry has made podcast apps in China much more integrated with so many features in a single app. In addition, podcast content in China tends to be more user-generated rather than professionally produced, as the former is more popular.
The popularity of podcasts in Asia is expected to grow over time. Many countries in APAC are already seeing significant growth in podcast consumption.
Podcast Industry Trend in 2022
Here are some predictions about how the podcast industry will look in 2022:
More Competition for Better Podcast Platform Offers
With more competition for better podcast platform offers, podcasters have more options to monetise their audio content. This means that podcast platforms have to work harder to bring better user experience and offer to podcasts.
As a result, we expect podcast platforms to continue offering more features and services and a better user interface to improve their customer experience.
As more podcast publishers enter the market, we expect them to compete fiercely for listeners. There will also be more choices for consumers when it comes to subscribing to podcasts.
We predict that podcast publishers will continue innovating and providing new features to attract more subscribers. In addition, we anticipate that podcast providers will start partnering with other companies to create unique experiences for their audiences.
Podcast Advertising Will Continue to Grow
Advertising is also becoming more critical for podcast publishers. As more advertisers turn to podcasts to reach audiences, this could lead to increased interest in podcast advertising.
However, most podcast publishers do not yet know how to advertise on podcasts effectively. Therefore, they need to learn about the different types of advertising available and where to place them.
User Experiences That Are More Data-Driven
If you have been listening to podcasts for any length of time, then you know how much data can be collected about podcast listeners. This information can help podcast hosts understand their audience better to make more informed decisions about what kind of content to produce next.
For example, if you listen to a podcast regularly, you may receive notifications when the host mentions specific topics or keywords related to your interests. You may also want to hear about upcoming episodes before they air. These features are made possible through the collection of user data.
As we mentioned earlier, podcast analytics tools collect a lot of information about users' behaviour. This includes which shows they listen to, how long they spend listening, whether they skip or fast forward through segments, etc.
This data helps podcast publishers determine what kinds of content to create and distribute. It also allows them to measure the effectiveness of their marketing campaigns.
Higher Quality for Podcast Content
If you are looking for ways to improve podcast quality, you should consider investing in higher-quality equipment. This includes microphones, audio editing software, and other tools that can help you produce better podcasts.
Getting higher quality equipment for podcasting will allow you to record sound without worrying about background noise. For example, if you use a microphone that picks up too much ambient noise, it will affect the clarity of your voice.
As listeners prefer much higher quality content, many podcasters switch from consumer-grade equipment to professional gear. For example, some producers are switching from using smartphones as recording devices to high-end digital audio workstations (DAWs).
These tools cost thousands of dollars, making them out of reach for podcasters who are just about to get started in their podcasting journey. However, they are perfect for producing podcasts because they give complete control over every aspect of the recordings, potentially bringing in a better listening experience.
Podcasting has become popular among people worldwide for so many reasons. It is easy to start creating podcasts with no special equipment required nowadays. Increasing Internet penetration also means more people have access to podcasts anytime, anywhere.
If you are interested in a podcast that can help you grow your business or career, check out "One Eye Deer".
The "One Eye Deer" podcast explores one powerful marketing idea to help business owners, entrepreneurs, salespeople, marketers and working professionals grow their businesses and careers.
Hosted by J C Sum, a certified marketing management consultant, he shares stories from his 25 years of experience in marketing and his current role as a strategy consultant working with a wide variety of businesses. He also shares how he built a 7-figure consulting firm within two years.
Check out our latest episodes below:
By providing Evolve & Adapt with my personal data, I agree that Evolve & Adapt may collect, use and disclose my personal data for purposes in accordance with its Privacy Policy and the Personal Data Protection Act 2012. I understand that my personal data may be used for marketing purposes by Evolve & Adapt.